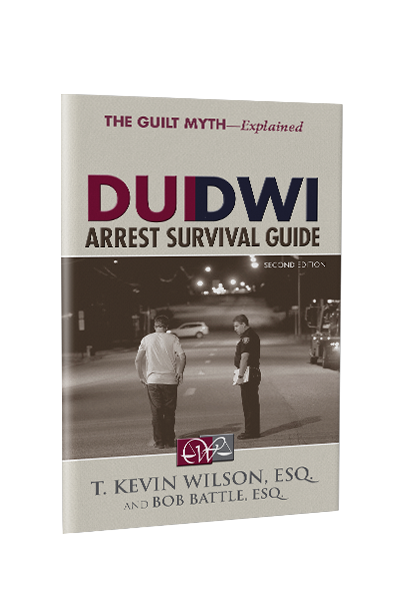 STOP!

Before you speak to ANYONE about your case, read this FREE consumer guide:

The Virginia DUI / DWI Arrest Survival Guide
The Guilt Myth - Explained

Urgent - The Clock is Ticking!

When charged with a DUI / DWI, the deck is stacked against you! Laws are both written and interpreted in favor of the prosecution, so much so that some commentators talk about the "DUI / DWI exception to the U.S. Constitution." In writing this book, Virginia DUI / DWI Lawyers T. Kevin Wilson and Bob Battle are attempting to share valuable knowledge and dispel the notion that Virginia DUI / DWI cases are unwinnable. It is their belief that knowing your rights is the first step toward protecting those rights!

YOU PROBABLY HAVE MANY QUESTIONS ABOUT YOUR VIRGINIA DUI / DWI:
1. How do I choose a lawyer?
2. Was the officer justified in pulling me over?
3. Are there ways to attack roadside "sobriety tests"?
4. Are there ways to challenge the breath test result?
5. They took my blood to be tested, are there ways to challeng the blood test result?
6. Am I going to have to testify?
7. Am I going to have to go to jail?
8. Am I going to lose my license?
9. What about my job, my school, my kids, etc.?

THIS FREE CONSUMER GUIDE HAS ANSWERS!
The Wilson Law Firm has successfully defended thousands of clients across Virginia just like you who have been accused of DUI / DWI. This book is intended to provide valuable information to people facing the nightmare of a Virginia DUI / DWI.

Get your FREE copy NOW!